I'm sorry, but I do get a bit sentimental towards my electronic equipment - especially when each one is so darn expensive and only through blood, sweat and tears do I get to purchase said electronic goodies. So you can imagine the horrid meltdown I had when this happened...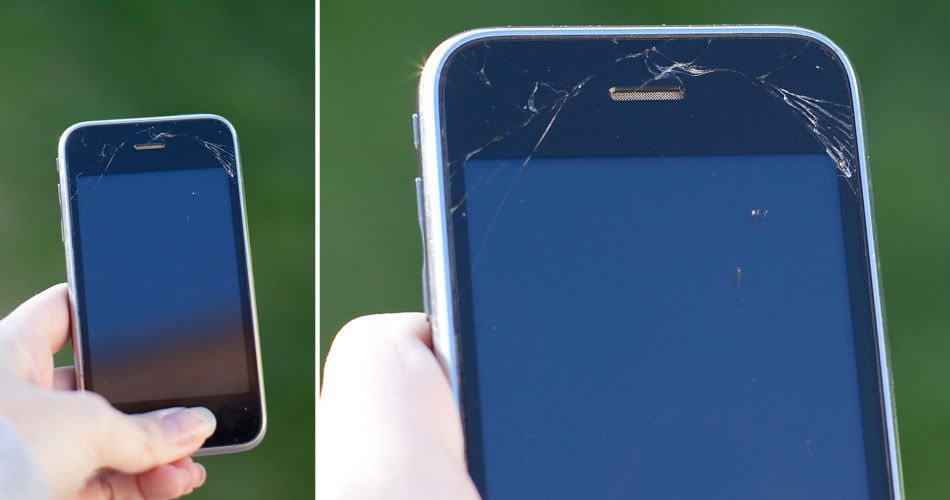 Let me tell you that it doesn't take much for this to happen, so word to the wise all you iPhone wielding folks out there... protect your baby!! I immediately drove to the Apple store and begged and pleaded for them to make my sweet angel all shiny and pretty and new again. I was so heartbroken when a porkly fellow behind the 'so-called' Genius Bar told me that my warranty which would have covered the $199 repair had just barely expired! Booo-Whoooo!!! He then proceeded to joke around and inquire as to how much distance I actually got with the phone... the nerve... like THIS would be self-inflicted??!! I was about to show him how much distance I could get with my foot when I realized that small children (mainly my own) were looking on.
The silver lining is that the phone and touchscreen DO still work and all that beautifully cracked glass was kept to the top of the phone... where my EAR goes! So if I cry while I'm talking to you on the phone you'll know that my ear is being cut up by tiny shards of iPhone glass. I'm such a cheap sucker!