... because this was just half, yes HALF, of the place settings for our family. Directly behind me - the picture taker - was another long table just for all the kids.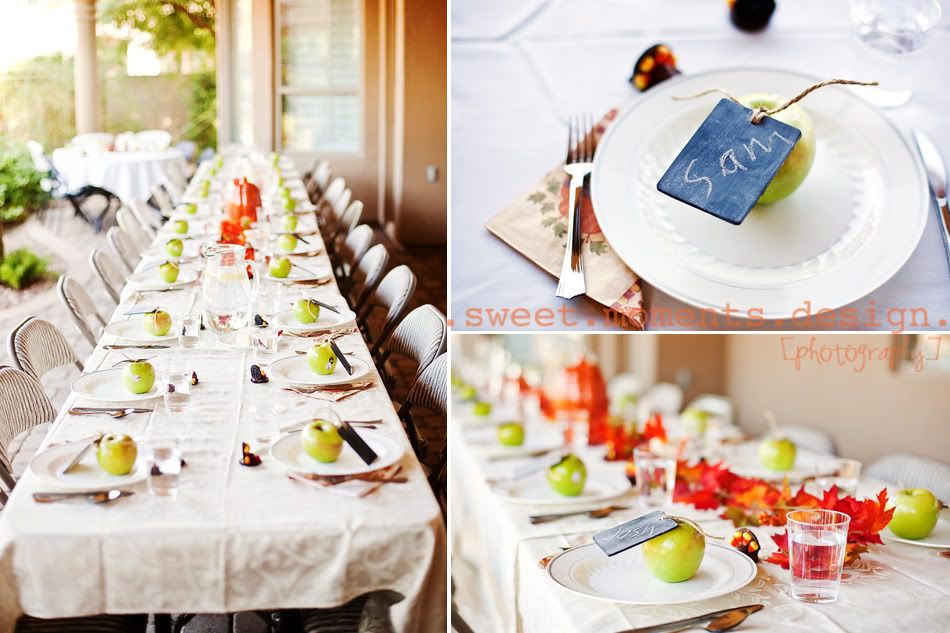 For some bizarre reason I seem to be the one "chosen" each year to make the name tag place settings for our Thanksgiving dinner. Not exactly sure why this has become the tradition - I mean we're all family and we usually can find a place to sit, but it is what it is. I usually gripe and moan and complain about this little project but I secretly love it... alright, there it is, cat's outta the bag!
So this was the place setting I came up with for this year... simple balsa wood rectangles spray painted with chalkboard paint and tied to an apple stem. Clever. Simple. Waaaaaay cute. Yes, yes and yes!
There is an abundance to be thankful for this year and I am truly grateful for where I am at today! I have a tremendous family, a husband who I simply adore, a deep love and appreciation for all the little things in my life and a hobby that has become a full-fledge passion which in turn has blessed me with a small business of my own. So, to all my dear sweet clients... THANK YOU! I have enjoyed meeting and photographing each and everyone of you. I love that you let me into your lives; I love that we laugh, giggle and occasionally snort together; I have loved all the moments we've shared together.
Happy Thanksgiving!
2009